The following Recovery Ministries booklets can be purchased through the Amazon website to download to your Kindle, or alternatively click the 'Add to Cart' buttons to order your own printed copies. The checkout will appear at the bottom of this page once you have added one or more items to the basket. All prices include free delivery within the UK; please contact us to arrange a delivery charge to another country.
The Grace of God
It is sad when Christians disagree, often vehemently, over something as wonderful and valuable as the grace of God. The argument usually centres on what happens once someone becomes a Christian. Most agree on the saving work of the Lord Jesus Christ, but differences arise over the role and responsibility of the Christian, now that they are saved.
One major error the Apostle Paul encountered was what he described as, "Falling from grace." The Apostle Paul was referring to Christians who having once put their faith in Jesus Christ as the only means of salvation, were now being deceived into thinking they needed to keep the religious laws, festivals and ceremonies, even becoming circumcised, in order to stay saved and not lose their salvation.
God's grace is much more than just a gift. It is a powerful ingredient in the Christian's life and is intended to impact eight Key Areas:
Understanding the Fundamental Truths of Christianity
The writer of the Book of Hebrews complained about the lack of spiritual maturity in the believers. At that stage of their faith, they ought to have been in the position of being teachers of Biblical truth. Instead, they had failed to grow and develop as Christians. Unable to digest the meat of God's Word, they had to rely on milk, implying they were still acting as babies. They remained largely in ignorance of the simple, basic truths of their faith, which they should have learned and put into practice years earlier.
Sadly, what the writer of Hebrews states as being the elementary principles of Christ, are still largely a mystery to Christians today. The reason for this is simple; they are subjects neglected or hardly ever mentioned in preaching in most congregations.
When Jesus encountered unbelief and ignorance, preventing Him from working many miracles, He set out to correct it by teaching. Church leaders would do well to imitate that practice.
Developing People Skills
Developing People Skills covers three main subjects. Its aim is to ensure leaders know how to handle people, how to correctly counsel them in times of personal need and how to deal with disputes as and when they arise.
Churches are made up of people and often great effort is taken to reach out in evangelism to add to the church. If leaders are unable to handle those who come in as a result of outreach or are unwise when it comes to making appointments to positions of responsibility within the church, then members may end up leaving faster than they are being added.
Proverbs states, "The one who wins souls is wise." It may safely be added, "The one who correctly and lovingly handles people is wise too."
Having a Clear Strategy Planning Church Vision
Recovery Ministries has been helping to place good Biblical Teaching within the reach of church leadership around the world, particularly within Africa.
The aim is to give church leadership an outline on the teaching subject which then can be used when preparing their own sermons. Material can be added which is particularly relevant to their own church background, culture and vision.
Having a Clear Strategy Planning Church Vision studies the Book of Nehemiah and his return to Jerusalem to rebuild the walls of the city. How he went about doing that will help Church Leaders when they bring vision to the church. His determination to see it through to completion will inspire churches to keep going when the going gets tough.
The Pastor's Manual

The Pastor's Manual is a combination of the study of the Bible, which is the Word of God, and of experience gained during many years in church leadership and ministry. It is not designed to be a comprehensive guide on the subjects covered but rather a stimulus to help church leaders to study the Bible personally; to appoint leaders to assist them and to ensure the church is pastored in a way that protects and releases the members into active service. Prayerful consideration of the material will allow the leader to apply it in the best way to suit their church and vision through the guidance of the Holy Spirit.
Many young ministers facing problems and difficulties in church life often feel cut off from senior overseeing ministers and are usually left to cope in the best way they can. The Pastor's Manual will help them to soar not sink as the principles revealed will work in any church, anywhere in the world.
Download with Amazon Kindle >>
Receiving the Spirit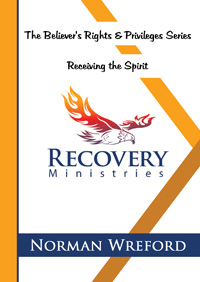 The purpose of this booklet is three fold:
To encourage every believer in the Lord Jesus Christ to know that they have the right and privilege to receive the Holy Spirit, whatever their denomination teaches about it.
To stir up every believer who has already received so that they do not let it slip and it becomes merely an experience of their past.
To remind believers that receiving the Holy Spirit is the gateway to the nine supernatural gifts of the Spirit which are to be in evidence in the everyday life of the local church. Every believer is to be a miracle-working witness of the Lord Jesus Christ.
Buy Receiving the Spirit (1st Edition only) now for just £2, UK post paid
Or download with Amazon Kindle >>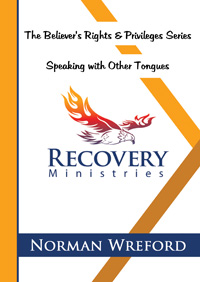 Speaking with Other Tongues
An easy to understand guide that helps believers overcome natural barriers to speaking with other tongues and so enjoy the benefits of being filled with and staying full of the Holy Spirit. God said he would pour out of his Spirit on all peoples.
Unfortunately far too many believers experience the baptism in the Holy Spirit and speaking with other tongues, only to neglect it later on for various reasons. My prayer is that this booklet will enable believers to receive and stir up the gift in them, so that the purpose and power of being filled with Holy Spirit and speaking with other tongues will be manifested for the glory of God.
Buy Speaking with Other Tongues (1st Edition only) now for just £2, UK post paid
Or download with Amazon Kindle >>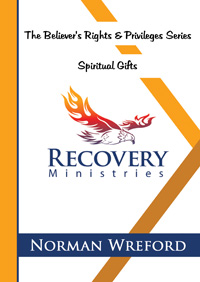 Spiritual Gifts
The intention is not to give an in-depth study on the nine spiritual gifts of the Holy Spirit listed in 1 Corinthians 12:7-11, but to briefly explain each one and then to inspire the readers to ensure that spiritual gifts are an integral part of their Christianity.
All of us have family, friends, relatives, work colleagues and neighbours, not to mention those we come into contact with every day, who are facing tremendous problems and difficulties. There is an answer found in Jesus, but we need to take it to them in the power of the Holy Spirit.
Buy Spiritual Gifts (1st Edition only) now for just £2, UK post paid
Or download with Amazon Kindle >>
[/one_half]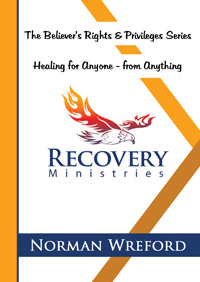 Healing for Anyone – from Anything
For some healing is a mystery. Why does God heal one and not another? How does God heal? Can God really heal anyone of anything?
The purpose of this booklet is that healing becomes a reality! For both the one who needs it because they are sick, diseased or infirm, or because they want to reach out to needy people in the love and power of the Holy Spirit in exactly the same way that they did in the Bible.
Buy Healing for Anyone – from Anything (1st Edition only) now for just £2, UK post paid
Or download with Amazon Kindle >>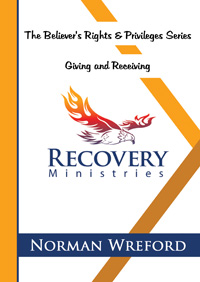 Giving and Receiving
One of the greatest hindrances to local churches in Britain, whatever the denomination, is the lack of finance. So often the work of God is supported by raffles, bring and buy sales and the letting out of church premises, instead of faithful tithing and freewill offerings of God's people.
A down to earth study that challenges every Christian and church to be a giver. Also to encourage those that are, to stay that way and to grow in the grace of giving.
Buy Giving and Receiving (1st Edition only) now for just £2, UK post paid
Or download with Amazon Kindle >>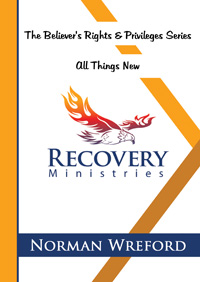 All Things New
The purpose of this booklet is to help those who have recently become a Christian and even those who gave their lives to Jesus years ago, understand what has happened in reality when the Bible says:
'Behold, I make all things new.' Revelation 21:5
Order your copy now and discover how many new things have taken place.
Buy All Things New (1st Edition only) now for just £2, UK post paid
Or download with Amazon Kindle >>

---
Place an order for all six booklets (1st editions), Receiving the Spirit, Speaking with Other Tongues, Spiritual Gifts, Healing for Anyone – from Anything, Giving and Receiving and All Things New for just £10, including free postage within the UK.

---