Mission Report – Rwanda
March 5th – 11th 2020
Hope for Rwanda
I took the following photo in Rwanda and feel it reminds us of God's faithfulness to His promises. He has not forgotten Rwanda!
Nyamata in Bugesera District: 6th – 8th March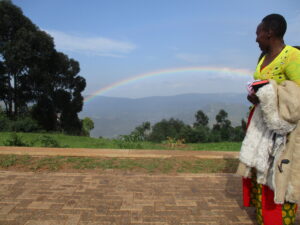 Eric Byshimo – Evangelist, Mission Co-Ordinator and Interpreter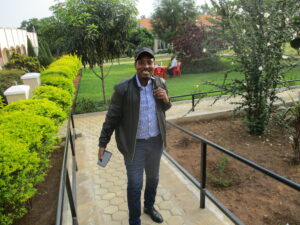 Sister Doreen, Deaconess in the church in Nyamata, who was so faithful in helping to ensure the church was clean and tidy for each service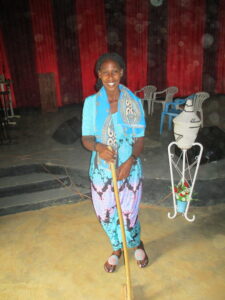 Eglise Evangelique De La Bonne Nouvelle Au Rwanda – Host Church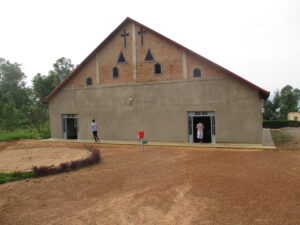 Pastor Emmanuel, His wife and Family, giving a testimony of her recovery from illness and return to the church services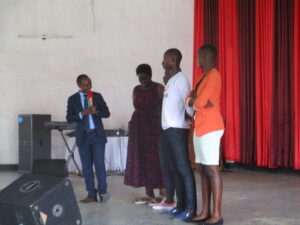 Church Leaders' Conferences were held during the mornings on the Friday and Saturday, with an evangelistic service late afternoon/early evening. There was also the Sunday morning and afternoon services. Those attending responded well to the teaching and preaching.
Mukarange in Gicumbi District:
9th – 11th March
Mukarange Church with Choirs and Lively Praise
The conferences and evangelistic services were a great success. We conducted open-air services in a nearby field. The local school was next to it. On the Tuesday, we brought forward the time of the service to coincide with the school's lunchtime. There was many children around the field and many responded to the appeal. We gave a number of them a decision card in Kinyawanda, which they took back into the school. The following day, the Headteacher contacted the pastor requesting him to come into the school and conduct meetings for the children who had received Jesus as their Saviour. This was a wonderful harvest right before the Coronavirus lockdown. 
Plans to return to Rwanda and other countries just as soon as is possible following the Coronavirus crisis.
*******
Rwanda Conferences
November 2019
Eglise Evangelique Church – Nyamata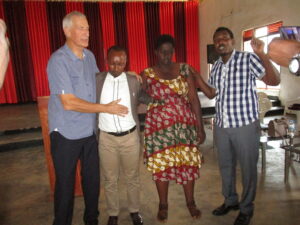 Accidents Do Happen!
A taxi cyclist rode straight into the car, puncturing the front tyre, scratching the left-hand side of the car and smashing the rear passenger window. His passenger on the bike was hurt but he was taken to hospital, from which he is recovering. As he had no insurance, the Mission was left to pay for the repairs to the car. This amounted to £150. It was a mad dash to get the car repaired before the long journey to Rusizi.
Congolese Pastors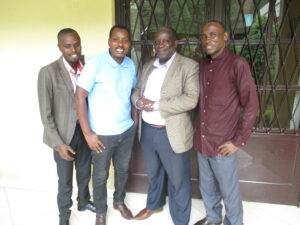 A Bishop and two pastors met with us in Rusizi having come across the border there. We are considering their request to hold a conference in Bukavu. Pray that we shall have clear direction from the Lord concerning this. We would also hold a crusade as well.
Gihundwe Church – Rusizi
Friday Night Prayer Meeting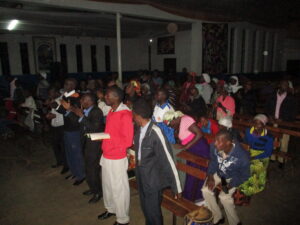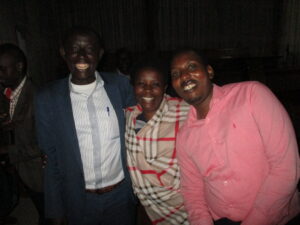 Saturday Conference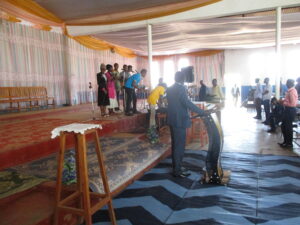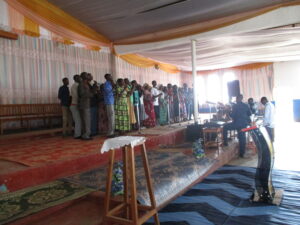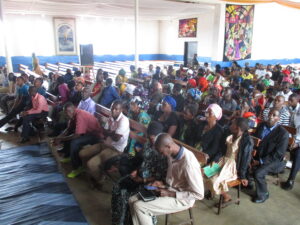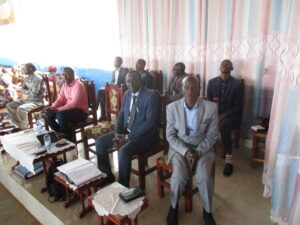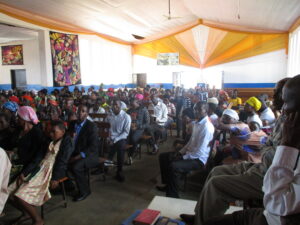 New Building Needs a New Roof
The church is hoping to start the new roof in December. If anyone would like to help finance their new roof, please contact me. See the report of March 2019 to view pictures of the building.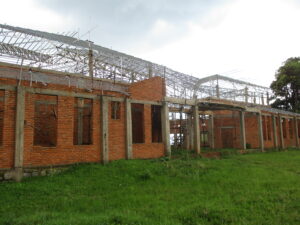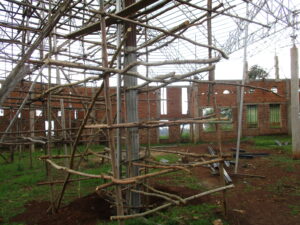 Sunday Services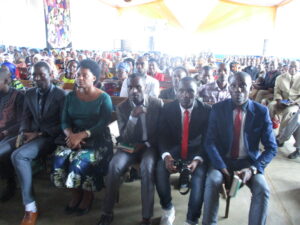 Responding to the Appeal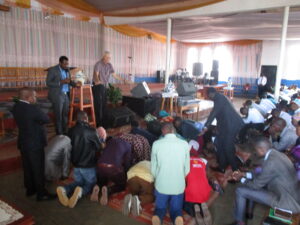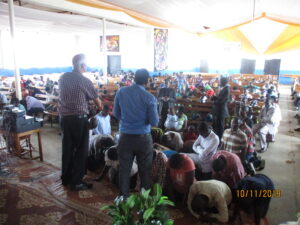 Mukarange Church – Gicumbi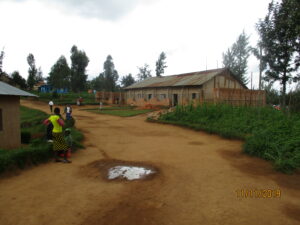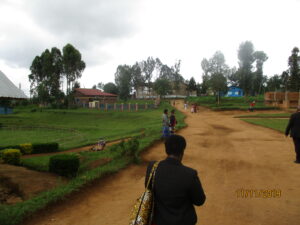 Pastor John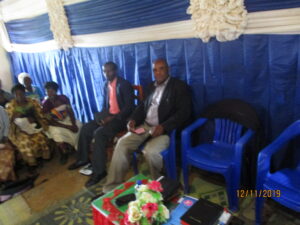 Supporting Pastors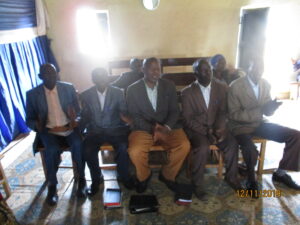 Large, Lively Congregation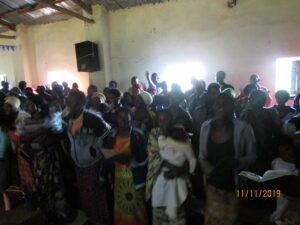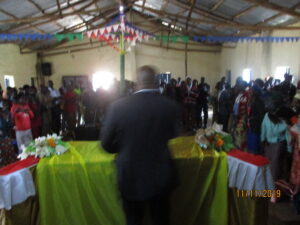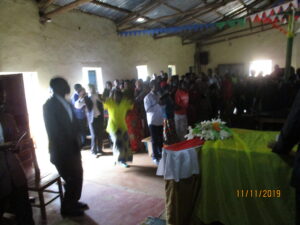 Responding to the Appeal
It was very encouraging that Pastor John made sure those who responded to the appeal gave their names and addresses. These were allocated to the nearest pastor for follow-up. This is the first time I have seen a pastor do this when I have made the appeal. It was very encouraging.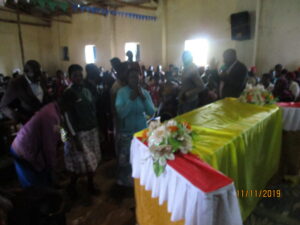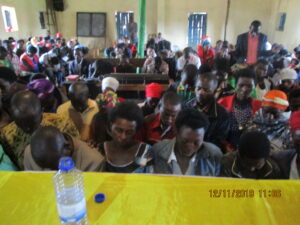 Last Day!
Despite struggling with a flu virus throughout the mission, Pastor Eric filled up every day. The last day was no exception. Following a revue of the Mission in the morning, I was scheduled to preach in two churches on the way to the airport. Due to speak at 2:00pm inn the first church, I did not get up to minister until 14:45pm. After speaking for 40 minutes and making an appeal, it was straight off to the next church where I started preaching at 4:00pm! Praise God for a great response to the appeal in both churches. Then it was straight to the airport to board the plane!
Foursquare Gospel Church – Kigali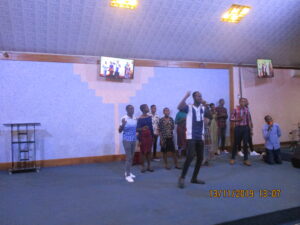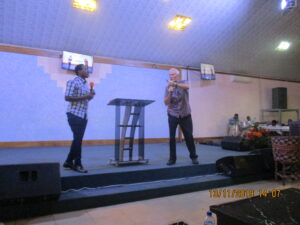 This is the first church I have preached in with an air-conditioning unit!
Church of the Nazarene – Kigali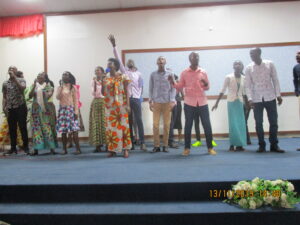 Welcome Home!
Snow greeted my arrival in Bristol airport. It was certainly a different temperature than Rwanda!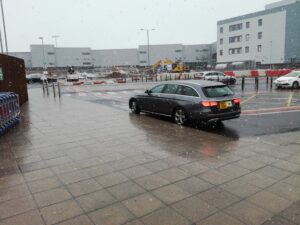 Planning is now taking place for the next mission in 2020
Thank you for your prayer and financial support
Rwanda Conferences
March 2019
An eventful and frustrating missions trip due to luggage delayed for two days and refused entry at the border with Burundi due to visa regulations having been changed. Also Bishop Tom, Pastor Moses and other team members were unable to come from Uganda due to border issues between Uganda and Rwanda. Still a hastily arranged conference in Adepara – Thursday together with the planned conference in Rusizi – Friday to Sunday, resulted in successful missions and God's people blessed and influenced for good. The invitation to return for further ministry was appreciated.
Adepara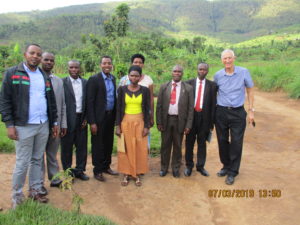 Rusizi
1st Photo – Norman with Paul – Interpreter and Martin – Co-ordinator
2nd Photo – Norman with Eric – Interpreter (far left) and Flavien – Driver in the middle with his family.
Friday Night Prayer Meeting 

Rusizi: birthplace of Pentecost in Rwanda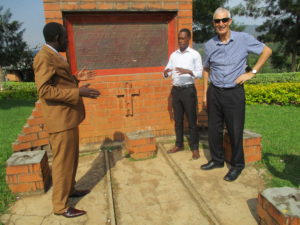 Where the first convert was baptized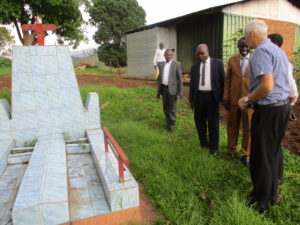 Where the first convert was buried
Construction of the new 4000 seater building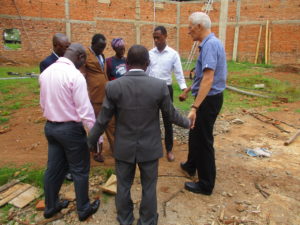 Joining in prayer to release funds for completion


Pastor Emmanuel and the District Overseer
West Uganda Pastors Conferences 2018
September 10th – 20th
Both conferences were well attended and because church members were also present, the conferences were divided into sessions of general teaching and workshops for pastors and anyone in church ministry leadership, single young men, ladies and youth. These workshops were excellent and need to be repeated wherever conferences are held.
Transport for the week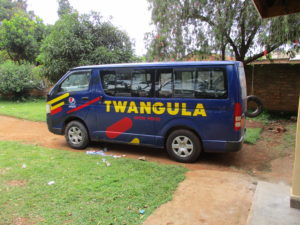 This vehicle belonged to Pastor Moses (Missions Co-ordinator) and was loaned to the mission. He was on a Mission trip to India and so could not attend the conferences. Neither could Bishop Tom Okello or Pastor Grace as they were hosting a conference in Lira. The vehicle served us well with no breakdowns. We had comfortable transport during the many hours of travel. It was nearly eight hours to get to the first conference hotel, and the conference venue was only twenty kilometres from Lake Edward and DR Congo border.
First Conference – Kyabahanga 13th – 15th September
Host Pastor Emmanuel with his wife and some of his children. He is a member of the Minister's Fraternal within the area and it was encouraging to see over 10 different denominational leaders present at the conference.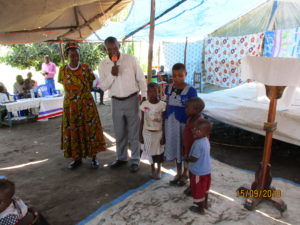 Lively singing led by an enthusiastic choir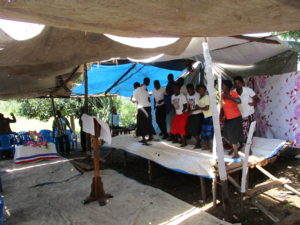 Ministry Team (from Right to Left)
Pastor Nicholas (Interpreter), Prose, Hellen and Bishop Isaiah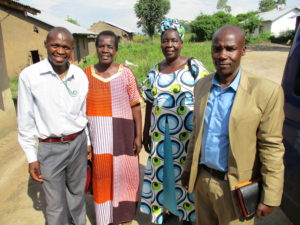 Church Leadershop Workshops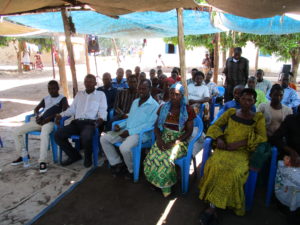 Sunday Service – Nyamunuuka 16th September
Second Conference – Karukaata 17th – 18th September
Hosts: Bishop Aaron, Pastor Benson (Zone leader) and Pastor Nicholas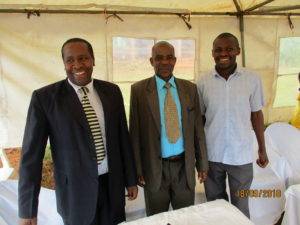 Conference Pictures
Workshops – Youth and Ladies
Workshops – Leaders
Healing Testimonies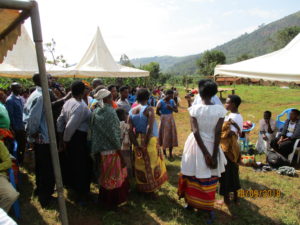 Our grateful thanks to Brother Andrew and his daughter-in-law Violet for allowing us the use of the land for the conference and hosting us within their house.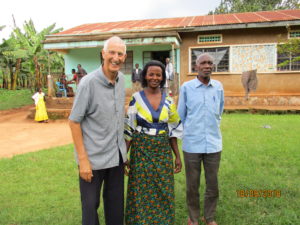 The team left West Uganda with thankful hearts over the great things that God has done and we are sure there will be another conference held in that region.
To God be the glory for the things He has done!
Rwandan Pastors Conferences 2018
March 5th – 11th
Gisenyi – 7th & 8th
Host Church and Pastor
Conference Delegates and Receiving Prayer for Evangelism
Question and Answer Session and Team from Uganda
Over 100 church leaders attended the 2 day conference in Gisenyi which was organised by Eric Byishimo who was also one of the conference interpreters. It was encouraging to welcome leaders from D R Congo.
The two main teaching themes of the conference were:
Giving and Financial Accountability – A comprehensive study of 2 Corinthians chapters 8 and 9.
Mentoring – Training your replacement
There was also a lively Question and Answer workshop
As a further encouragement, Norman has made available another 100 copies of The Pastor's Manual for Successful Churches in French. Eric Byishimo will coordinate the distribution of these manuals to conference delegates and leaders in D R Congo.
Gatumba – 9th & 10th
Host Church and Conference Church Leaders
Church Leaders and Members and a Prayer of Dedication
The team returned to Gatumba for another 2 day conference.
The first day was for Church leaders only with over 200 in attendance. The main teaching theme was "A Great Church", teaching taken from the Book of Acts.
The second day was opened to church members as well as leaders and it was encouraging to have 500-600 in attendance.  The teaching concentrated on:
Winning the Battle – James 4:7 and The Keys of the Kingdom of Heaven – Matthew 16:13-19.
Both conferences gave offerings towards the costs of the next conference. The Mission Team are grateful to everyone who contributed finance and prayer support. All costs were covered and that included feeding those who attended the conferences in both Gisenyi and Gatumba.
Pastors Conferences – September 2017
New Roads!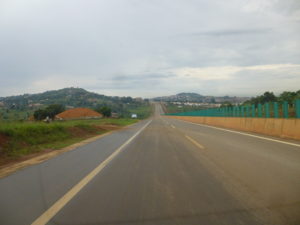 We were able to travel along part of the new road being constructed between Entebbe and Kampala, although not officially opened yet. What a blessing to see no cars! It will be a toll road but will be well worth the charge for the time it will save travelling.
Planning
Bishop Tom (Far right) was recovering from a foot infection and so was unable to speak at the conferences. Each day of the conference was planned to have 2 teaching sessions, separate workshops for both the leaders and women, closing with a final session for everyone.
Apac – 22nd & 23rd September
Prophetic Word
There was a prophetic word for the conference and Apac area in particular. "There is an open heaven!" Also Revelation 3:8, Jesus writing to the Faithful church. "I know your works. See, I have set before you an open door and no one can shut it, for you have a little strength, have kept My word and have not denied My name."
God will ensure that this area, which appears to be forgotten by the rest of the country, will rise to prominence and experience a prosperity.
Training College for Nurses and Midwives
Sister Margaret Ekel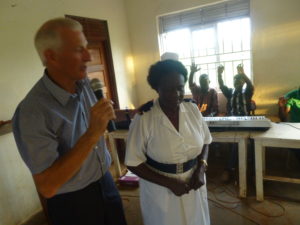 In 2008 Sister Margaret Ekel had a vision to start a training college for Nurses and Midwives in Apac. She envisioned 20-25 students. This is now the Florence Nightingale School, which and privately run and has grown to 600 students, both male and female. I am presently seeking to get books on Nursing Skills to help the college.
It was joy to be asked to speak at the student-led Christian service with 150 in attendance. Many responded to the appeal and also testified to receiving healing through prayer in the meeting.
Juliet Ebong – Sub-County Chief Apac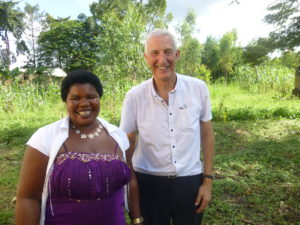 Juliet Ebong attended the first day of the conference supporting her leg with a crutch. After prayer she was able to walk more freely and attended the next day without it! Subsequent emails confirm that her leg is much improved and she is not needing the crutch any more!
Paidha – 25th & 26th September
Lunch for the Leaders!
Prophetic Word
Again there was a prophetic word for the Paidha leaders and area. "Therefore humble yourselves under the mighty hand of God, that He may exalt you in due time, casting all your care upon Him, for He cares for you." – 1 Peter 5:6-7. Although Paidha and the surrounding area in DR Congo have been forgotten by both countries, God will bless and cause favour to come. As they humble themselves so God will exalt them in due time.
I had the joy of meeting the District Chairman of that area which includes Paidha. He was on his way to Kampala to meet the President. I told him about the prophecy and he immediately extended an invitation to return to his area and hold a bigger conference 50-60 kilometres away. He even promised to arrange transport from the airport. I was able to pray for him that he would return from Kampala with unexpected favour for his area. Watch this space!
The Pastor's Manual for Successful Churches
I have arranged for another 250 copies to be printed. 105 copies of the English version for pastors in Apac  and Paidha who did not receive their copy when I previously visited both areas. Also 145 copies of the French version to help the pastors from DR Congo who attend the Paidha conference. My grateful thanks to Pastor Alfred Epila for printing them and arranging distribution.
Finally
Are such conferences a waste of time or worth their weight in gold? One has only to ask those attending how much it means to them to be taught God's Word and encouraged in their ministry. With full venues this time, when we return there will have to be bigger ones booked. Already plans are being made to return to Rwanda in February/March 2018 for 2 conferences in Gatumba area and near to the border with Goma, DR Congo. Your prayers and support is much appreciated.
The Pastor's Manual for Successful Churches
(French Edition)
I am grateful to Pastor Sam Nebout who lives in Plymouth, UK, for doing the final editing of the French translation which Eric Byishimo had undertaken. 250 copies have now been printed and Eric has started the distribution of these manuals in DR Congo. Here's some photos: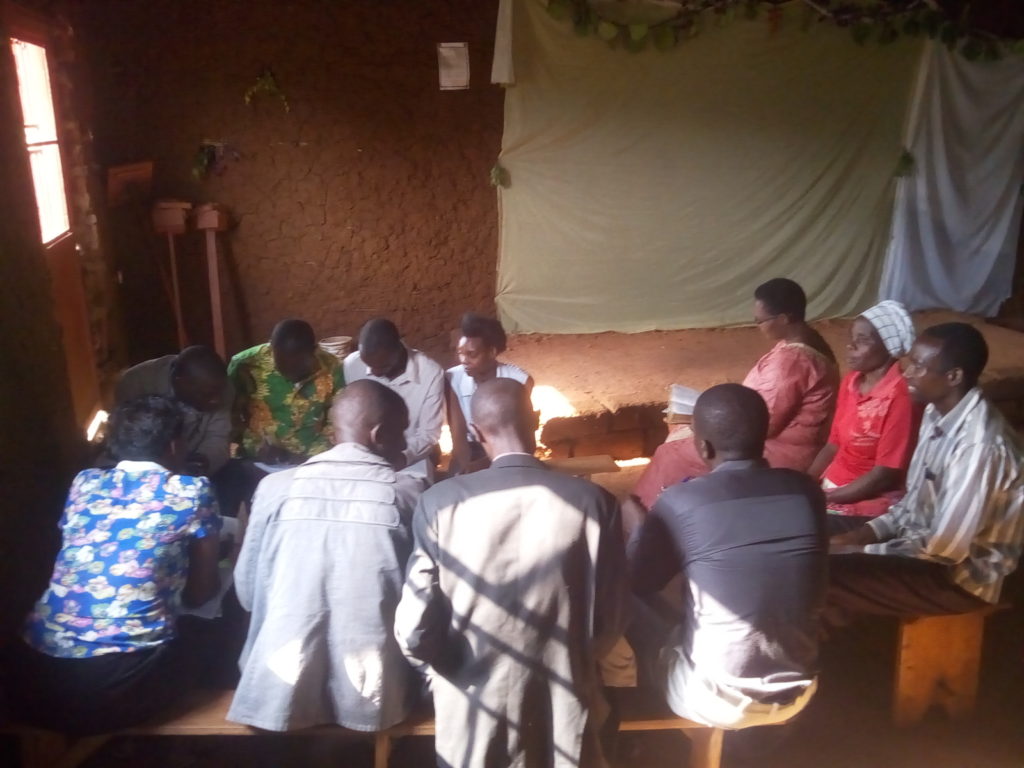 Next Mission Trip for Pastors' Conferences
Tuesday 19th – 28th September
Lira District, Uganda
2 conferences are planned for the Friday/Saturday – Paidha and Monday/Tuesday – Apach
Further details will be sent out nearer the time.
I value your prayer support for these conferences.
The Pastor's Manual for Successful Churches
(French Edition)
Eric Byshimo is currently working on the French translation of The Pastor's Manual for Successful Churches. It should be ready for printing within the next few weeks. I have personally undertaken the costs for doing this, plus the printing of 250 copies for distribution within D R Congo. I have also received gifts that will enable another 250 copies to be printed. I will be ensuring that these manual are carefully distributed to key leaders within the churches to maximise their impact. If anyone would like to make a gift towards the printing of more copies, then I and the churches in D R Congo would be extremely grateful and thankful to God for your partnership in this venture.
The Pastor's Manual for Successful Churches
Following the Rwandan Conferences, I was able to have 250 copies of The Pastor's Manual for Successful Churches printed in the Kinyarwanda languages for the Pastors and Leaders in Gatumba District. I am grateful to my interpreter Eric Byishimo for organising these to be printed in Kigali. He then travelled  to Gatumba to hand the manuals over to Pastor Kabanda who will oversee distribution to the Pastors and Leaders. The photo shows Eric and Pastor Kabanda with some of the church leaders receiving their manual. I am also considering having The Pastor's Manual translated into French so that it can be distributed within DR Congo. Please pray about this and the costs involved for translating and printing.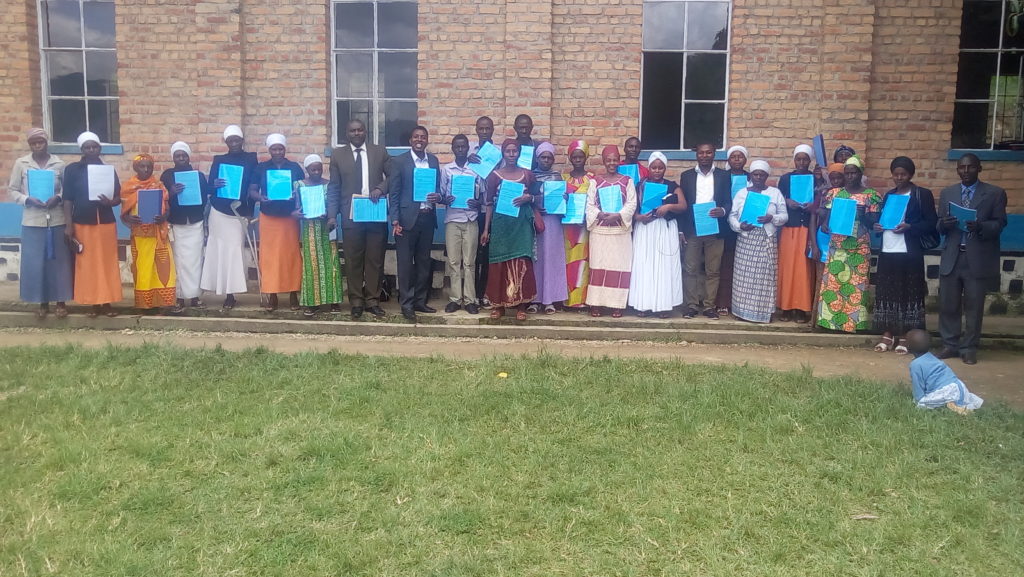 Rwandan Conferences
8th – 12th March 2017
Gatumba (8th & 9th)  & Musekera Chapel (10th – 12th)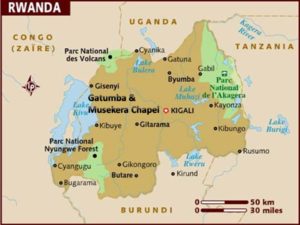 A Green and Pleasant Land!
 
On Our Way!
Pastors & Leaders' Conference – Gatumba Church(8th & 9th)
Up the Mountain
Church under Construction
Church Members Conference – Musekera Chapel (10th – 12th)
All Seats Taken with Plenty Standing
Meal Time!
Conference Speakers
Lots of Choirs!
Enjoying the Dancing!
Reaping the Harvest!
Thank You!
To Eric for doing all the interpreting. To faithful believers in both Uganda and the UK for giving so that these conferences can take place. To Pastor Kabanda, Bishop Aaron and Martin for inviting the Missions Team to Rwanda.
God willing, we will return in 2018!
Ugandan Pastors Conferences – 12th to 26th September 2016
Ntungamo
Hundreds gather for the conference

Harvestime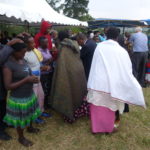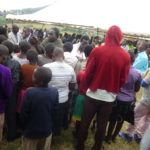 Crossing the Equator
Acet – Gulu
Lively Prayer & Praise                                                                     Women testifying to Healing
Lunch
 Apach
                 Lively Welcome                                                                    Attentive to the Teaching
      Even Leaders Take Notes                                                               Bishop Tom Teaching
                                            Showing Leaders How To Make Soap To Sell
Every Conference took up an offering for the next Mission. In Apach, they also gave an offering to the Mission's Team which included a goat, chickens, bananas and peas.
All Nations Church, Lira Sunday Services
                                7.30am English Service                  10.30am Luo Service

I am also having 200 copies of The Pastor's Manual For Successful Churches printed to be distributed to the Pastors and Leaders of Ntungamo, Acet & Apach.
*****
The Pastor's Manual For Successful Churches in Kinyarwanda
I am delighted to report that the translation has now been completed and distributed to Burundi and Rwanda
The following is an email from Bishop Gerard in Burundi
"I am very happy to write you this e-mail in order to inform you that I have received the pastors' manuals on Monday this week from Pastor Eric of Rwanda. I was checking the translation and they are very excellent for pastors as they are in our neighbour language. They are going to help my pastors, lift them in Spirit and ministry.
So let me say a big THANK YOU to you and Jenny and to all have supported this work,  not to forget pastor Eric!"
I also received this email from Pastor Eric the translator
"Greetings from Rwanda.  I would like to let you know that the pastor's manual teachings have arrived safely. Bishop Gerard has received 103 copies for Burundi.  Bishop Emmanuel received 51 copies and Bishop Denis received 51 copies And I received 51 copies and I will distribute my copies on 08/02/2016. That is the day I meet with pastors. I want to thank Pastor Alfred for his work doing the printing and Pastor Norman so much for your commitment.
I can't wait to meet the pastors and spend time with them and work together and hand out the books to them. We will have a wonderful time."
Pastors' Conferences in Uganda and Rwanda 
8

th

 to 25

th

 August 2015
My own private jet?
If you look at the plane's identification, it says NWI. This was the plane on which I flew  to Uganda. On the way home the plane's identification was NWW. It seemed like my private jet on both flights! I was so thankful to be allocated seating with extra legroom despite being told when I checked in that none were available. I am so grateful to the air stewardesses in looking after my comfort. In fact I even managed to sleep on the flight home, something I have rarely done when flying.
First conference and Crusade – Paidha, West Nile, Uganda
Wild animals at last!
Last year, when travelling through Uganda, Rwanda and Burundi, I didn't see any wild animals, except a few baboons near Lira, Uganda that are always there, feeding on what the travellers throw to them. This year it was a joy to see, although from a distance, elephants, hippos, deer, warthog all near the bridge where we crossed the River Nile on the way to Paidha.
Pastors happy to receive their copy of The Pastor's Manual
Pastors and leaders came from the area and also from DR Congo. It was wonderful to see their enthusiasm in worship and in being taught the Word of God. Up to 150 attended the conference, and requests were put in for the Mission Team to return in 2016.
Crowds attend the Paidha Crusade
The lorry took as many as it could from the conference, along with the PA equipment to the crusade, a 10 minute ride away. Unfortunately, a narrow track meant the equipment had to be carried for the last half a mile. Crowds gathered as soon as the music and singing started and responded to the gospel appeal. It was interesting to see the adults be the first to give their lives to Christ. The second evening experienced power failures from the generator and that meant the crusade only started when it was virtually dark. However, the adults were again the first to respond to the appeal and more came forward to receive Christ when a second appeal was made after the sick had been prayed with. On both nights, the names and addresses of those who had responded to the appeal were recorded, so the local pastor could ensure they received a follow-up visit.
 Pastors' Conference – Alebtong, Uganda
This year, 314 pastors and leaders attended the 2 day conference. There was such a depth of teaching and taking in God's Word. Again, every pastor and leader received their own copy of The Pastor's Manual at the end of the conference. As the venue was filled to capacity, we are not sure what to do if the Missions Team returns in 2016. There was certainly a big increase in attendance over last year, and the enthusiasm for the conference was so evident.
Pastors' Conference and Sunday Worship – Kigali, Rwanda
A much smaller conference made up from local pastors and leaders, and pastors from Burundi and DR Congo. Again those attending were hungry for the Word of God and appreciated the way in which they were taught. We had been praying for someone to be able to translate The Pastor's Manual into Kinyarwanda, so that leaders in both Burundi and Rwanda would be able to read it easily. Our interpreter, Eric, offered to do that and so the translation has begun. Pray that God's wisdom will guide him in this very important task. We are also looking into the possibility of The Pastor's Manual being translated into French to help the pastors and leaders from DR Congo. We are looking to the Lord to supply the finance needed for all this so that the churches in all these countries can be helped and strengthened.
We really appreciate those who gave financially and prayed for these Pastors' Conferences. 600 copies of The Pastor's Manual have been printed, and Part 2 has been started. There has been a great and lasting harvest for the glory of God.
 Remembrance and Reconciliation
In 1994, Rwanda was torn apart by genocide when 1 million people were slaughtered in just 100 days. Our last day in Rwanda was a sobering experience as we saw a pictorial history of those awful events. 250,000 bodies are buried in this memorial centre. How is it possible that mankind can be so cruel and evil? Thankfully there is a reconciliation taking place, and the teaching in the conferences will help the church to build on that and reach their nation with the good news of Jesus Christ.
The Pastor's Manual and Conferences – Uganda and Rwanda – August 2015
Some of you kindly supported the Pastor's conferences in Sept/Oct 2014 in Burundi and Uganda.  The conferences were organised by Bishop Tom Okello of All Nations Christian Care, and I was greatly surprised to learn that 75% of the $2500 budget was raised in Uganda, and this included feeding everyone who attended, and the travel and accommodation costs of the ministry team!  They really are reaching out to the poor in a very real practical way.
From August 8th 2015, I will be ministering in 3 Pastors' Conferences in Uganda and one in Rwanda, returning home on August 25th. I am again asking on their behalf, for your help financially towards the costs of these conferences and feeding those who attend.
My visit last year enabled me to better understand what teaching material would help the pastors and I have now completed "The Pastor's Manual" – guidance designed to help the pastors build strong churches. I've attached the Contents page so you can see what is included.  This will be published on Kindle in due course.
The manual will be printed in Uganda and distributed to the pastors who can read English. Our goal is to give a copy to each one. Bishop Tom estimates there will be 600 pastors attending the conferences in Uganda who can read English. Provisional estimates for having the manual printed and spiral bound are less than £1 per copy. Also we are looking into the cost of having the manual translated into Kinyarwanda, the language which is widely spoken in both Burundi and Rwanda.
For this I need your help. Will you prayerfully consider investing in this vision and turn this goal, for every pastor to have their own copy, into reality? It's amazing how a small amount of money by our standards, can achieve so much in Africa.
It's easy to send your gift via the Recovery Ministries website using Paypal. Please contact me direct if you would like to give in some other way. Your gift will not be used to cover my travelling expenses, but only for the conferences and The Pastor's Manual.
Thank you for your prayerful and practical support of this venture. As a thank you for your gift, I am happy to send you a copy of "The Pastor's Manual electronically", which you can use for your own benefit or pass on to your church leadership.
I look forward to hearing from you so that we can go to print in good time for the conferences.
**********
Burundi & Uganda Pastors' Conferences October 2014
Bishop Tom Okello (on right) and Pastor Moses.
Organisers of the conferences.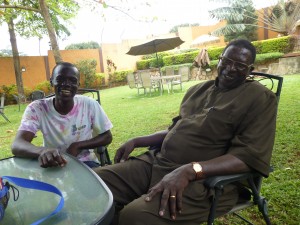 An hour or two of sightseeing along the shoreline of Lake Victoria

1.30am departure for the 15 hour non-stop journey to Ngozi, Burundi

Burundi Pastors' Conference & Sowing an offering for another country's conference

Crowds gather for the open-air crusade, even climbing trees to get a better view

Lively praise and worship

Hundreds respond to the appeal to receive the Lord Jesus Christ as their personal Saviour

Local cattle grazing by the side of the road and Baboons, the only wild animals seen during the travels through Burundi, Rwanda and Uganda!
Kirombe Pastors' Conference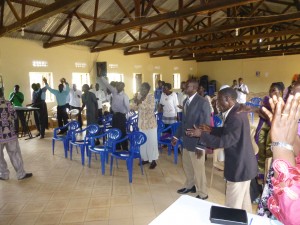 Dokolo Pastors' Conference and prayer for the forthcoming fundraising day to complete the roof of a nearby church, which was realised on the 28th October.
All Nations Church Lira nearly full for the 7.30am service in English only, followed by the 10.00 am service in the  local Lua language
Someone brought a goat for the offering and I'm not kidding! It was auctioned for just under £40.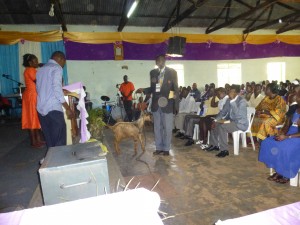 Alebtong Pastors' Conference welcome party and getting ready to be taught the word of God


Many received the baptism in the Holy Spirit accompanied with speaking with other tongues.
A wonderful end to the conference!

Thank You For Your Support


Ian Caunter led a team to Uganda in July, part of which was to ensure mosquito nets were purchased and distributed into needy areas. The photos are of local pastors overseeing the distribution in the churches. Although the price of the nets has increased, the exchange rate had also gone up, so nearly as many nets were purchased as were originally anticipated. The following is part of Ian's report.
"Two areas were chosen for the nets to be distributed. The first being in the Lira area where 60 nets were given out as required, as last year 300 nets were distributed here. The second area was Kyotera in the Rakai district, right down next to Lake Victoria. This is a particularly bad area for mosquitos and malaria. Here we were able to distribute 200 nets. Norman, it goes without question that these nets are a real life-saver, in particular for the children and the elderly. Thank you once again for your valued support, which together with many others who are giving in this practical way, is making such a difference to people's lives in Uganda."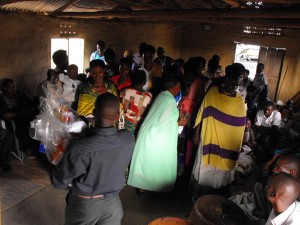 Norman has a renewed interest in Uganda, having first visited the country in the '90's. His involvement now is in both a spiritual and practical way.
Ugandan Church Leader's Teaching Material
There is a great need for church leaders to be helped with Bible exposition, sermon preparation and church matters. Many of these leaders have had little more than a primary school education with little or no access to reference books, computers or the internet.
Bishop Tom Okello of All Nations Christian Care was for many years the General Superintendent of the Elim 1200+ Foursquare Churches. He has now retired from that role, but actively continues with the teaching, discipleship and mentoring of young church leaders for the role that lies ahead of them.
Bishop Tom has asked Norman to prepare teaching material to help these inexperienced ministers in particular to understand and correctly expound the Bible. Additionally to grasp the principles of establishing and overseeing a church. The material Norman is producing is easily copied and then distributed to the leaders, during the course of a 3 day seminar, held in their own area. The cost of printing, travelling, accommodation and putting on the seminar is around £400 for Bishop Tom. He is committed to doing this even though it puts extra strain on his limited finances and other commitments.
Mosquito Nets For Uganda
There are still areas, particularly in the Lira area of Uganda that are plagued by mosquitoes resulting in many deaths. Yet a family can be protected with a net for only a few pounds! Recovery Ministries ensures that 100% of the monies given to this project are used to purchase nets which are then carefully distributed. What a simple, cheap but effective way to help bless a family and save lives.
You can support either of these missions either by:

Bank Transfer
Cheque or Money Order
PayPal Donation (see link below)
Please contact Recovery Ministries for further details as how to make a contribution, or alternatively click the Donate button below to make a contribution online through PayPal or with a credit or debit card.

God's promises to you the giver:
'Blessed is he who considers the poor; the LORD will deliver him in time of trouble. The LORD will preserve him and keep him alive, and he will be blessed on the earth; you will not deliver him to the will of his enemies. The LORD will strengthen him on his bed of illness; you will sustain him on his sickbed' – Psalm 41:1-3
'He who has pity on the poor lends to the LORD, and He will pay back what he has given' – Proverbs 19:17
'But this I say: He who sows sparingly will also reap sparingly, and he who sows bountifully will also reap bountifully. So let each one give as he purposes in his heart, not grudgingly or of necessity; for God loves a cheerful giver. And God is able to make all grace abound toward you, that you, always having all sufficiency in all things, may have an abundance for every good work. As it is written: "He has dispersed abroad, He has given to the poor; His righteousness endures forever." Now may He who supplies seed to the sower, and bread for food, supply and multiply the seed you have sown and increase the fruits of your righteousness, while you are enriched in everything for all liberality, which causes thanksgiving through us to God' – 2 Corinthians 9:6-11
Scripture taken from the New King James ®1982 by Thomas Nelson, Inc. Used by permission. All rights reserved.